CVS Pharmacy Universal Beanies!

Halloween always brings fun stuff for us monster fans. One of the fun things that showsup every few years are different offerings from Universal Studios. In past years they havegiven out a license to Burger King for some action figure that came with their kids meals, some rubber stretchy monsters, and my personal favorite item, the beanie toys shown in the picture.

These beanies came in two sizes: the small 6" and the larger 12" (sizes approximate due to my not having a beanie by me to measure). You could also purchase a plastic keep case for them, wisely in the shape of a coffin. Oooo, scary!!!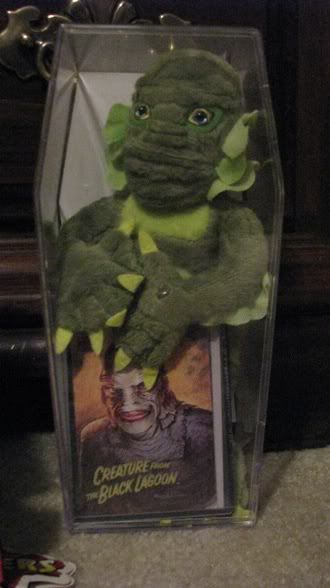 The characters available were the standard Frankenstein Monster, Dracula, Wolf Man, Creature,Bride, and Mummy. But then Universal also decided to give us the bonus additions of the Phantomand the Hunchback! Granted, aside from Creature (and maybe in a strange way Mummy), none of these really look like their actor counterparts, but considering the goofiness of it all, that is more than forgivable.

In the back, on the left side, you will see my 12" Wolf Man. You might also notice he has aface which is the same as the little Wolf Man, but his clothes are a tad different. What youcan't see is that the tag is also different, and upon further investigation, turns out he wasalso made by a different company! All of these, with the exception of him, were bought at a CVS.My wife found him at a garage sale this summer, so I have no idea where he came from. Plus, whileat G-Fest this year there was a dealer selling 12" Universal stuffies, which at first glance looked like the CVS guys. But upon closer look, they were NOT the same critters. But, they alsowere not this one. So some confusion abounds within my head. I'm still trying to decide how muchI really care about this all though and if it is worth my time to investigate. But if anybody happensto read this and knows the answer, please leave a comment.

At the time, if you missed any of these while in the stores, they could cost you a decent amount of moneyto get a full set. But as time has passed, oddly enough, the last time I looked on a certainonline auction site, the prices for these was not all that terrible. So if you are looking to add these guys (and girl) to your collection, check them out!